Obama Is Now 48… Or Is He?
It's time we have some real fun with the birther crowd. Obama's 48th birthday was yesterday (and my 28th birthday is Monday), so people were celebratory cards to him. Among them: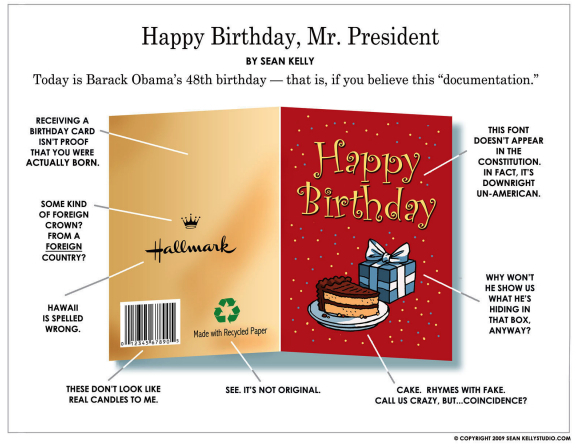 Others, more forgiving of the President's birth certificate controversy, are simply pointing out that is doesn't matter if he was born in the then-relatively-new state of Hawaii or in a "Republic of Kenya" that simply didn't exist when he was born. Rather, due to an interesting gramatical flaw in the Constitution, he and virtually every President we ever had were ineligible for the office:
Wait a second. I just had a thought. What if Article 2, Section One of the Constitution couldn't possibly mean what it literally says?

"No person except a natural born Citizen, or a Citizen of the United States, at the time of the Adoption of this Constitution, shall be eligible to the Office of President…"

Read it again. It's not just about where you were born. It says you can never be president unless you were alive in 1788.

That leaves out everyone but Robert Byrd.
So, here's to our President. He may have been born in the right state, but just the wrong year. Still, those activist judges will let him keep the office – because in this country, in this century, we don't discriminate based on age.
Do we? 🙂